Seven Essential Mobile Applications for Investors
Considering the diabolical state of much of the world's finances, and recurring concerns that everything from our savings to our pensions are at risk, it's unsurprising that increasing numbers of people are choosing to find alternative means of looking after themselves financially.
Whether you're looking to begin investing or you're already a seasoned pro at the stock market, these easy-to-use mobile applications will help you get the most from your investments and monitor the whole process (especially while you are on the go).
SharePrice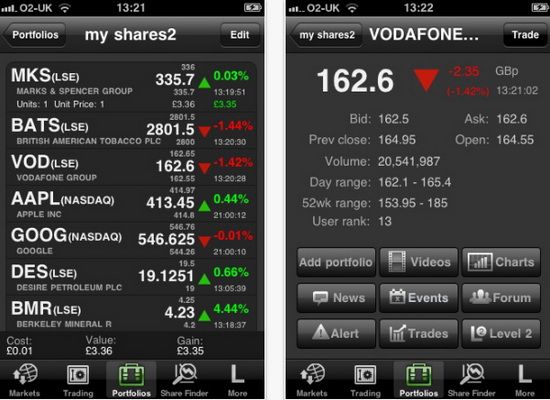 SharePrice is a free application that enables investors to view real-time updates of level 1 UK share prices.
In order to get full use of the application, traders must register for free at shareprice.co.uk. Once registered, investors will not only benefit from live share price updates; they can also create and sync multiple portfolios, view the profit or loss of each portfolio and even trade shares straight from their iPhone, iPod or iPad.
Any downsides?
A number of bugs have been reported including installation problems and slow update times for certain shares. However the app boasts a solid three star rating, and reviews are generally very positive.
The application is also currently only supported by Apple devices, meaning Blackberry and Android aficionados will have to get their stock market updates elsewhere.
Stock Market Simulator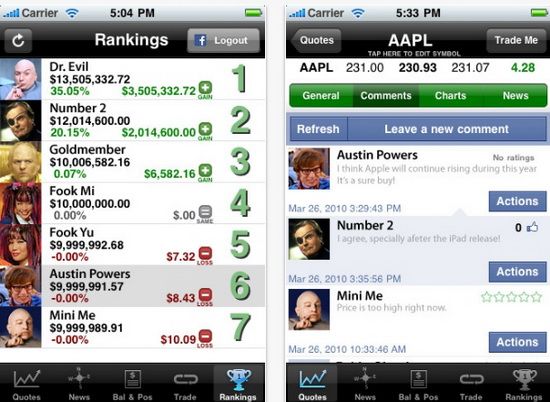 One for the novice investors, this free application is in fact a game that simulates the ups and downs of the real stock market. The game can also be played from your computer desktop at tradefields.com.
Any downsides?
You need to sign into your Facebook account in order to play the game – however this does mean you can play alongside your friends. Some users have reported functionality issues.
Thomson Reuters Marketboard
An excellent application that allows investors not only to track current share prices, but to investigate the news, research and events that are impacting price changes.
This free application is ideal for those who want to gain a true understanding of the stock market and make more informed decisions on when to buy and sell.
Any downsides?
To unleash the application's full potential, users must be subscribed to Thomson ONE.
Iron Money
A simple yet undeniably useful application for anyone who needs to accurately track their finances.
Users can 'categorise' their spending as they see fit, in order to increase the ease at which they can take control of their money. Reoccurring transactions can be saved, so that they automatically appear in the user's transaction history at a set date and time.
Any downsides?
A one off fee of $9.99. In order to access the application, you need to register with ironmoney.com – however, this part is free.
theLoop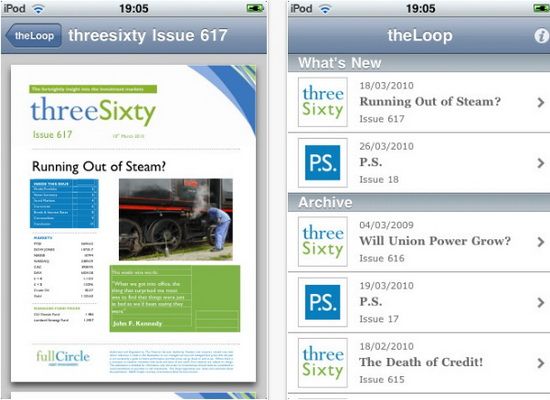 A free application allowing enthusiastic investors to access commentaries and presentations on the investment market.
Any downsides?
Application is rather limited in terms of the features it offers – then again, it does provide current industry insights and information for free.
Bloomberg for iPad
Another free application designed by one of the world's most respected authorities on finance: Bloomberg.
Bloomberg for iPad offers news, price charts, company information, stock quotes and analysis. The application also allows users to create lists of their 'favourite' stocks and benefits from being available in eleven different languages.
Any downsides?
Some users have reported that the latest update has caused the app to freeze sporadically. Needless to say, it's only available for the iPad.
And the Number One Application…. NASDAQ OMX Portfolio Manager
Independent reviewers of this app reported it to be 'the best free financial app that I have ever used' and 'way too good to be free'.
Users can benefit from real-time updates to the US and Nordic stock markets as well as access to StockTwits TV and conversation streams in real-time.
Any downsides?
Some users report lagging while others complain that the application could benefit from more detailed trader information – however those users seem to forget that the app is completely free!